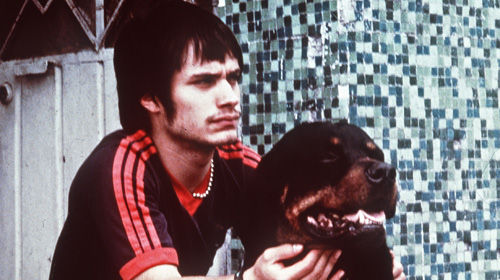 Underprivileged characters and their daily struggles to cope with adverse surroundings are a major presence in today's cinema from Latin America and Spain. Feature films and documentaries alike center on characters that have a vulnerable status in their respective societies; such as children, the elderly, maids, sex workers, and immigrants living in precarious socio-economical contexts. Those figures are presented in nuanced ways that go far beyond the simple typology of the "little guy." Filmmakers frequently adopt a neorealist language, fast-paced narrative rhythm, and real-life settings to convey the circumstances of those who barely make ends meet.
The prominence of the figure in contemporary film leads to further research questions, a key one among those is related to the conception of minor filmic storylines that challenge established national and nationalist narratives. They propose instead perspectives that align them with other marginalized figures in a transnational sphere marked by neoliberal realities. Mexican Alejandro González Iñárritu's fulminant Amores perros has been hailed as a paradigm of this awareness and aesthetic (its canine metaphor served as inspiration of the theme of our conference).
This conference strives to be both a conversation in and beyond disciplines: Thirteen colleagues from three different SUNY and CUNY campuses will participate. The research topics approach the subject of the underdog from a variety of methodological, theoretical and geographical angles. In addition to the individual presentations, the event will include a workshop dedicated to strategies to locate films and visual images from Latin America and Spain, a student panel organized by graduate students of the Department of Languages, Literatures and Cultures, and final round table discussion related to the specificities and challenges of the teaching of film in our diverse disciplines. The roundtable participants represent the areas of Film Studies, English, Sociology, Political Sciences, and second language acquisition.
This event is made possible thanks to a Conversations in the Disciplines (CID) grant (The State University of New York), and generous support from the Department of Languages, Literatures and Cultures at the University at Albany, State University of New York.
Contact: Ilka Kressner ikressner[at]albany.edu
Photo Credit: Film still from Amores perros (Mexico, 2001, directed by Alejandro González Iñárritu)
Schedule
2017
Thursday, October 5th
1:00 PM

Matter and Memory: Reasserting the (Political) Present in Eduardo Coutinho's Edifício Master (2002) and Kleber Mendonça Filho's Aquarius (2016)

Gonzalo Aguiar, State University of New York at Oswego


University at Albany, Humanities 354

1:00 PM - 2:00 PM

Friday, October 6th
9:00 AM

Finding Latin American and Spanish Videos for Research, Teaching, and Learning

Jesús Alonso-Regalado, University at Albany, State University of New York


University at Albany, Humanities 290

9:00 AM - 10:00 AM

10:15 AM

Reflections, Distortions, and the Homoerotic Aesthetics: Looking to Caribbean Female Filmmakers

Maria Alejandra Aguilar Dornelles, University at Albany, State University of New York


University at Albany, Humanities 290

10:15 AM - 10:45 AM

10:45 AM

Submission and Manumission in Michael Rowe's Leap Year (2010)

Silvia Álvarez-Olarra, CUNY Borough of Manhattan Community College


University at Albany, Humanities 290

10:45 AM - 11:15 AM

11:15 AM

Scapegoating in the Films by Alejando Fernández Almendras

Ilka Kressner, University at Albany, State University of New York


University at Albany, Humanities 290

11:15 AM - 11:45 AM

12:00 PM

University at Albany, State University of New York


University at Albany, Patroon Room

12:00 PM - 1:00 PM

1:00 PM

La isla mínima [Marshland] (2014): Revisiting post-Franco Spain with a Neo-Noir Film

Luis Cuesta, University at Albany, State University of New York


University at Albany, Humanities 290

1:00 PM - 1:30 PM

1:30 PM

Cinematographic Resources as Meaningful Affordances in a Foreign Language Class

Denise Osborne, University at Albany, State University of New York


University at Albany, Humanities 290

1:30 PM - 2:00 PM

2:30 PM

The Anti-Hero Perspective of Sebastián Silva's The Maid

Amber Bradley, University at Albany, State University of New York


University at Albany, Humanities 290

2:30 PM - 3:00 PM

3:00 PM

From Locus Amoenus to Locus Horribilis: Provincial and Urban Spaces of Cultural (Re)Assertion and Hegemony in Yates and Sigel's When the Mountains Tremble and Bustamante's Ixcanul

Katrina Abad, University at Albany, State University of New York


University at Albany, Humanities 290

3:00 PM - 3:30 PM

3:45 PM

Roundtable Discussion: Uses of Film in Different Academic Disciplines

Shira Segal, University at Albany, State University of New York
José Cruz, University at Albany, State University of New York
Maria Keyes, University at Albany, State University of New York
James Osborne, The College of Saint Rose
Lina Rincón, Framingham State University
Diana Aldrete, Trinity College, Hartford Connecticut


University at Albany, Humanities 290

3:45 PM - 5:00 PM